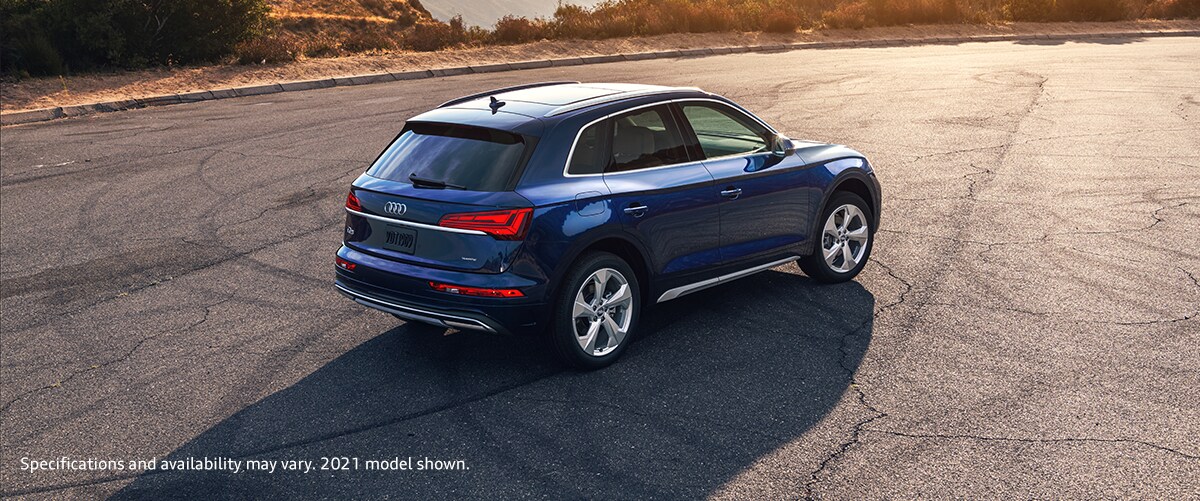 If you are ready to get behind the wheel of a small SUV but do not want to sacrifice the luxury Audi experience, the Audi Q5 is the perfect vehicle for you. The Q5 is a compact sports utility vehicle that is upscale, offers a host of high-end features, and gives drivers the power and performance they need behind the wheel to navigate any driving context. The Audi Q5 is the distinguished compact SUV that you've been waiting for. 
Let's start with power and performance. The standard Q5 features a 261-hp four-cylinder, seven-speed automatic transmission with quattro all-wheel drive. The plug-in-hybrid option adds an eclectic motor that increases output to a stellar 362-hp and 369-lb.-ft of torque. Power is undoubtedly there. Performance is smooth, controlled, and light. Whether you are accelerating to jump on the highway, navigating twisty mountain passes, or driving the kids to school, you'll enjoy comfort while appreciating the power of Audi. 
Once seated inside the Audi Q5, you will appreciate the impressive list of luxury features, including leather upholstery, heated and power-adjustable front seats. With seating capacity for five, across two rows, passengers will enjoy seats that are roomy and comfortable. For families on the go, the rear seats of the Audi Q5 offer two complete LATCH systems and a third mid-seat tether system. Other fun features include a panoramic sunroof, ventilated front sports seats, and numerous generously sized storage niches throughout the car. 
Audi did not skimp on the technology in the Q5. In fact, it is some of the tech features that define the Audi driving experience. Audi MIB3 Infotainment system is intuitive and chock-full of features to impress. Starting with a 10.1-inch touchscreen, drivers are equipped with desirable and enticing tech features. Expect Apple CarPlay, Android Auto, Bluetooth connectivity, 4g Wi-Fi hotspot, satellite navigation, and an extensive list of technology features that can personalize your driving experience. 
Once you get behind the wheel of the luxurious Audi Q5, you will understand why it is one of the best-selling SUVs in the lineup. Enjoyable performance, impressive power, and upscale interiors with a spacious, comfortable driving experience are what make the Q5 an exceptional compact SUV.
Start Your Custom Order