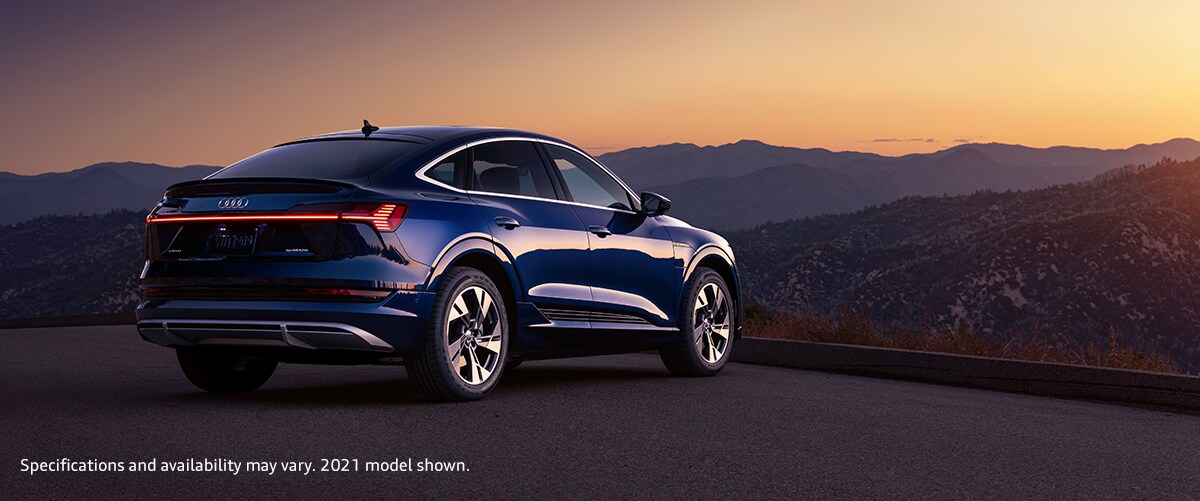 Light Up Your Life with the Audi e-tron Sportback

With pristine engineering, a sleek build, and a smooth ride, the Audi e-tronSportback will completely alter your driving experience. You'll go from driving a car that feels like any other car to experiencing the electrifying ride of the Audi e-tron Sportback, and you'll never look back. We know that functionality is not to be compromised, and we wouldn't dream of it. Not only can it get you where you need to go, but its ultimate drive capabilities, interior setup, and smart technology will blow you away.

Superior Design

Polished with standard S line exterior features, the Audi e-tron Sportback's style will pack a punch on the road. You'll love the thoughtful touches that will make your life even easier, such as the additional charging port on the passenger side that offers you more ways to charge. Once you set foot inside this electric vehicle, you'll be sold. It marries sport with luxury to include heated massage seats and classic touches you'll love.

A++ Performance

The advanced 95 kWh battery takes the power of this electric vehicle to new heights. With 402 HP and 490 lb-ft of torque, the world is your oyster. Whether you're cruising on mountain highways, zooming up the coast, or taking a trip through your neighborhood, the Audi e-tron Sportback delivers A++ performance in every situation. For those moments when you're in a hurry, the Audi e-tron Sportback can get you from 0-60 in 5.5 seconds. The all-wheel-drive feature will constantly adapt and adjust to what you need, so acceleration and handling are always flawless. With Audi drive select, the drivetrain, steering, and suspension can be adjusted to fit your needs.

Featured Technology

There's no need to over complicate technology, and in the Audi e-tron Sportback, you'll face a beautifully simplified infotainment system that still offers all the features you need. With the myAudi app connection, you can set the temperature in your vehicle before you even step inside. Lastly, with an Audi connect PLUS subscription, you'll get a WIFI-hotspot in your car and gain access to a plethora of top-notch services, all from your vehicle. 

Driver Assistance & Safety

There are no blind spots with the Audi e-tron Sportback. Its 360-degree cameras give you a total view of your vehicle at all times to ensure the safest experience on the road. There are also front sensors that can alert you to any obstacles or stopping happening in front of your car. In case of an emergency, the vehicle can brake to avoid a collision. You'll love the traffic relief feature which helps you maintain a safe distance between you and the car in front of you in all types of traffic. This is an electric vehicle you can count on.

Schedule a Test Drive Today

It's time you trade in ordinary for extraordinary; schedule a test drive for your new Audi e-tron Sportback today. The team at Audi Carlsbad can help you find your perfect fit or arrange a few test drives until you meet your vehicle. If you have any questions just give us a call or stop in and visit us today at 5425 Paseo Del Norte in Carlsbad, CA!
Start Your Custom Order