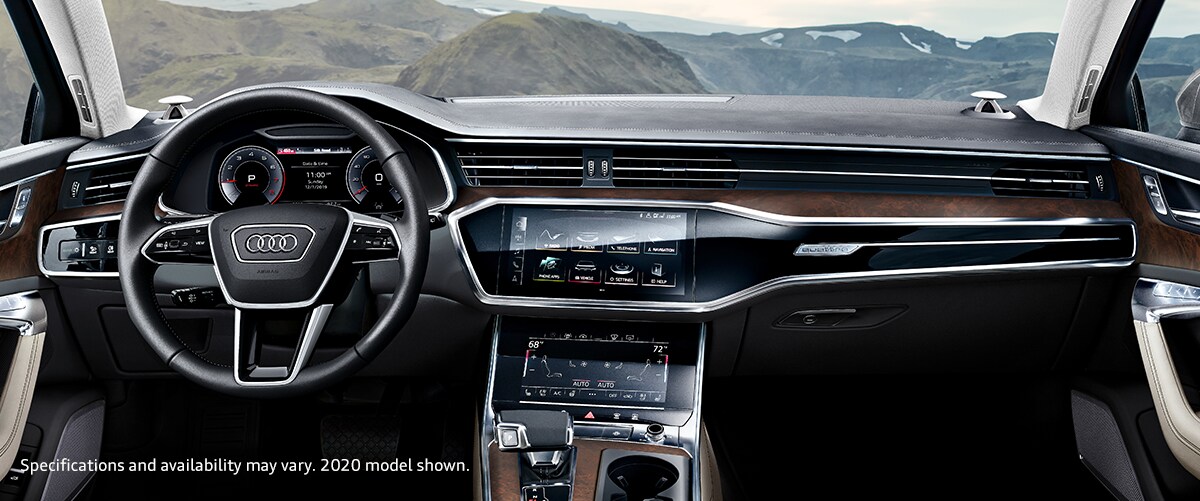 The Audi A6 Allroad is a refreshing take on a luxury vehicle designed to take you beyond the highway to get lost in the wild of whatever lies beyond. The A6 Allroad offers a striking design, exciting equipment packages, and exceedingly capable off-road. 
The versatility of the A6 Allroad starts with a turbocharged 3.0-liter V-6 engine that kicks 335 hp and offers 369 lb.-ft of torque. The Audi A6 Allroad is packaged with a seven-speed automatic transmission and Audi's Quattro all-wheel-drive system as standard features. Adjustable air suspension creates smooth rides across vast terrains and provides greater control when venturing beyond your local backroads. 
The design of the Audi A6 Allroad is sleek, modern, and chock-full of desirable amenities and high-end materials. With space to comfortably seat five adults, expect to enjoy leather upholstery, heated and power-adjusted seats, and a heated steering wheel. The Allroad wagon features 63.8 cubic feet of cargo space and a hands-free power liftgate as a standard feature. 
In addition to the touchscreen managing the Audi A6 Allroads secondary controls, drivers will appreciate Audi's infotainment software customized to the driver's desires and needs. An 8.8-inch screen with navigation, Apple CarPlay, Android Auto capability, onboard Wi-fi are included as standard features with options to upgrade to a larger touchscreen or a premium sound system. And like all Audi's, the A6 Allroad provides a suite of safety features that will give drivers peace of mind, regardless of where they explore. 
The allure of living outside the lines and exploring forgotten and undiscovered paths is a perfect fit for A6 Allroad drivers. The rugged styling, practicality of design, power, and performance of Audi engineering matched with the luxury features Audi drivers desire make the Audi A6 Allroad worth strapping into and driving into a life beyond the end of the highway.  
Start Your Custom Order